Antonio Rocha (pronounced haw-sha) is an award winning  internationally acclaimed storyteller. His unique fusion of mime and spoken word has been featured in premier venues in the United States, as well as at events in 15 other countries spanning 6 continents. With his tenor voice, realistic sound effects, unique characters  and mesmerizing moves, Antonio can reach a vast age group entertaining kids and adults. He is sure to tickle your funny bone and delight your soul no matter your age. Antonio's programs include, folktales, original personal stories, myths, comedy, movement pieces and stories based on his immigration to the USA from Brazil. One such story was recently featured at a TEDx event  (please click
HERE
to watch it). Often a featured teller in the nation's premier storytelling events, Antonio's programs may be booked for schools, museums, libraries,  universities, festivals and special events where good listening is cultivated. Teaching his craft is also something Antonio loves to do. His techniques are presented with a kind and exploratory approach which is well received by performers and business leaders alike.

Greeting to you and thanks for coming into my website. I hope you are well.
It is now the end of May 2022. As you know, It has been a very convoluted past 2.5 years. I have come to the conclusion that if I am alive and breathing on my own, that it is a miracle I should not take for granted. I have been doing a lot of performances via zoom throughout and more and more in person. I even flew to the United Arab Emirates to perform last September. This past April 30th I performed my new show, The Malaga Slave Ship at the Maine Maritime Museum. The show was created at Indigo Arts Alliance last October. 
Please find below an exciting list of performances and residencies I have for the upcoming Summer months. 
               

 -Sept 22-24: Kentucky Cave Run Storytelling Festival.
 There is more for the end of 2022 coming up soon. Thank you. 
- Partners of the Americas:Our Roots Summit Nov 1-3 
    Bogotá  Colombia. 
   I will be representing Maine as the President of Partners of the 
   Americas- Maine Chapter. 
- Midland TX Storytelling Festival. December 1-3.
- New Year Gorham Maine. Dec 31st. 
- BhuFeSto Storytelling Festival in Bhubaneswar in India - 
   January 14-17th. 
- Funda Festival in RI - January 21st,  28th and 29th. 
- Do Tell it - Storytelling Festival in Madison GA - Feb 4th.
-A Slave Ship Called Malaga-
Various shows School and public
   in Maine via Portland Ovations.  Please let us know if you want
   to book this epic and very informative show. Thank you. 
- Arts  Farmington -
World Class Storytelling for Adults.
April 14th at 7PM. Please click HERE.

-Farnsworth Museum -
Rockland, Maine April 23rd at 3pm.
  I will be presenting A Slave Ship Called Malaga. 
 - Bay Area Storytelling Festival-
Orinda, CA. April 29th-
- StageBridge-
master class in Oakland CA - May 1st. 
- Meetinghouse Arts-
Freeport, ME. May 6th.
  I will be presenting A Slave Ship Called Malaga. 
Saint Luke's Cathedral 
Portland Maine
Presenting: 
A Slave Ship Called Malaga
June 10th at 7pm. 
Please click HERE for tickets. Thank you. 
- Belfast Public Library-
Maine. Family show. 
   July 12th at 2pm.
- Liberty Public Library -
Maine. Family show. 
   July 12th at 6pm.
- Timpanogos Storytelling Festival-
   September 7-9 2023.
Cincinnati Storytelling Festival
I will be performing with Megan Hicks and Paul Strickland.
Oct 19th-21st.
Please click HERE for more information.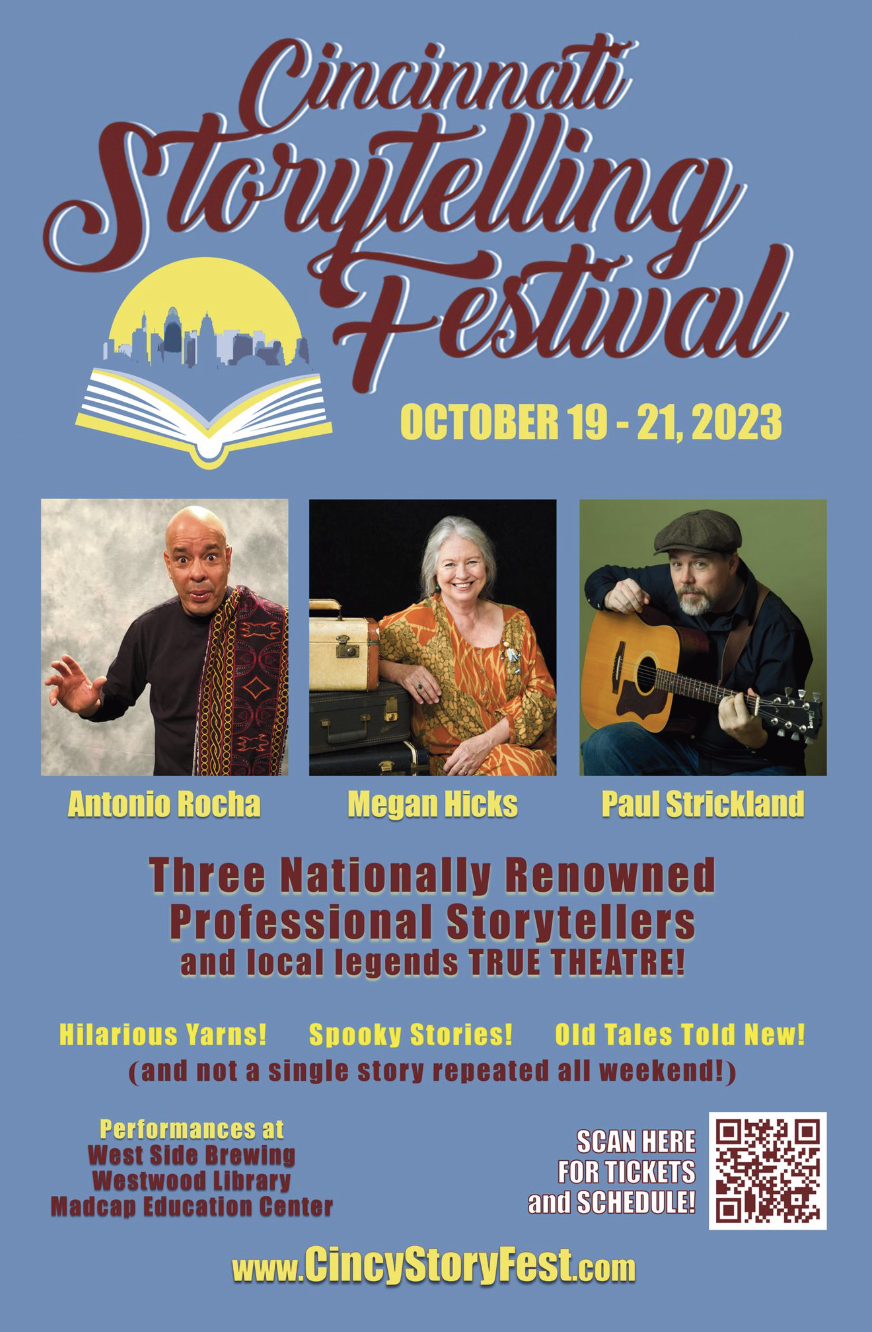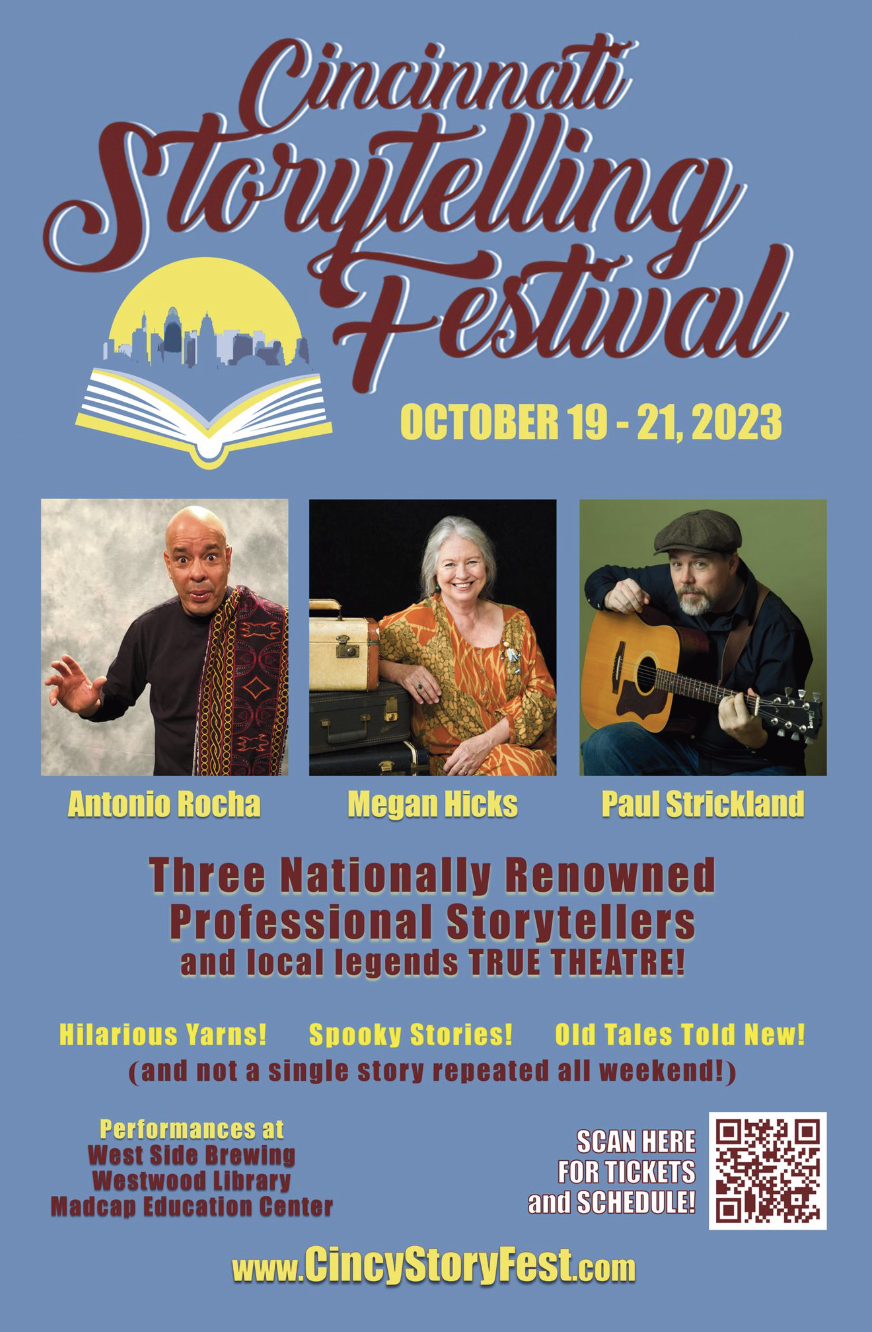 "Stories beget understanding - Understanding begets respect -Respect begets justice - Justice begets peace - That is the power of Story" - Antonio Rocha
Please Sign Up for the E-Newsletter!